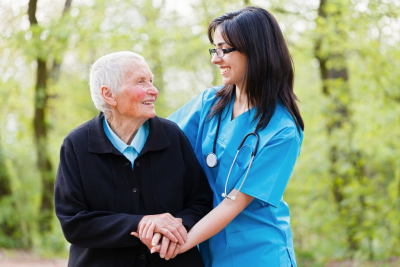 An injury, illness, hospitalization, or recovery from surgery can be an overwhelming experience. You need a provider who is known for their passion for excellence and compassion for people.  You need a provider you can count on, and that provider is Golden Age Home Health Care.  Allow us to ease the burden and successfully guide you through the rehabilitation process.  Our team of highly skilled professionals work collaboratively to assess your medical needs, mobility and day to day self-care activities, to develop a plan of care built around your unique needs and goals.  Our services are designed to accelerate your recovery and help you maintain the highest level of independence in the comfort of your own home.
Golden Age is a nationally recognized provider of home-based skilled nursing and therapy services.  Our company is locally owned by a team of experienced and dedicated medical professionals who have joined together to combine their collective expertise from years of experience in the healthcare industry to bring to life a company where patient care, outcomes and satisfaction are paramount.  Rehabilitation is our calling and we're here to answer your call.
Our keys to success:
A multidisciplinary team of highly skilled nurses and therapists
Individualized patient centered plans of care based on your unique needs and goals
Integrity and reliability
Respect for patients' values, dignity, preferences and expressed needs
Collaboration with physicians, families or caregivers and other providers for continuity of care
Patient education on conditions, disease processes and expected courses of treatment to facilitate independence, self-care, and overall wellbeing
Access to care 24 hours a day, 7 days a week
Connect with Us!
For all of your questions, messages, and more, kindly send them to our team through our online form. We'd love to hear from you.